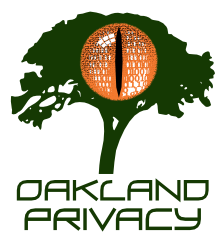 Join Oakland Privacy to organize against the surveillance state,  against ICE, and to advocate for privacy and surveillance regulation ordinances to be passed around the Bay Area. (We have been successful in San Francisco, Oakland, Berkeley, Santa Clara County, Davis, Palo Alto and BART with more to come.
We are also engaged in the fight against Predictive Policing and other "pre-crime" and "thought-crime" abominations, drones, improper use of police body cameras, ALPRs, requirements for "backdoors" to your cellphone, mass public identification systems such as facial recognition and against other invasions of privacy by our benighted City, County, State and Federal Governments.
We draft and push for privacy legislation for City Councils, at the County level, and in Sacramento. We advocate in op-eds and in the streets. We stand in solidarity with Black Lives Matter and believe no one is illegal.
Remote Due to Covid. https://oaklandprivacy.org/next-meeting/
Oakland Privacythly Meeting (Remote)