Difference between revisions of "Backspace"
Jump to navigation
Jump to search
Line 15:
Line 15:

===Proposals===

===Proposals===






[[Omni/Backspace Membership / Lease Term Proposal]]

[[/MembershipLeaseTermProposal]]
---
Revision as of 13:08, 22 May 2014
History
Founded in 2014, Backspace is a new project joining the Omni Oakland Collective of Collectives.
What We Offer
Backspace offers a quiet, warm, relaxing space for meditation, reflection, and focused work. We also offer studio rooms to be rented by massage therapists, bodyworkers, and wellness / holistic practitioners.
Where We Are
We are located in the back of the Omni Building. Once we are open you can find us through the same entrance used by Sudo Room and Counter Culture Labs. Here is a draft of our space layout: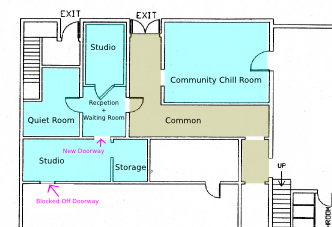 Proposals