Difference between revisions of "Electrical"
Jump to navigation
Jump to search
Line 21:
Line 21:

==Main Panel==

==Main Panel==






[[File:Panel-main.jpg|right]]

[[File:Panel-main.jpg|right]]






'''X''' = Disconnected

'''X''' = Disconnected
---
Revision as of 20:12, 30 January 2018
This page provides a "living document" of the Omni Commons electrical system. It is not necessarily completely accurate, though it strives to be, and is always important to get updated!
Primary Electrical System
Main Panel (in Rise Above, room E of rear [48th St] exit)
Main Panel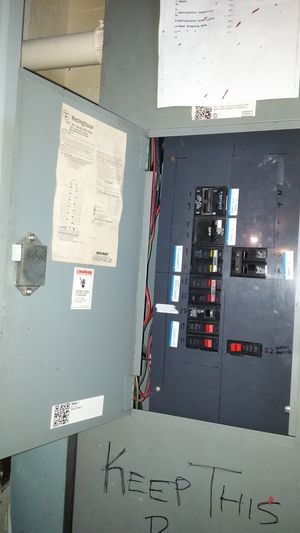 X = Disconnected
Label ->
Breaker #
Breaker #
<- Label
Panel B & Panel D 200amps
1
2
3
4
Panel A 200amps
5
6
7
8
X
9
10
Panel C 100amps
11
12
Storage #5 / Trash Room
13
14
n/a
15
16
n/a
Storage #5 / Trash Room
17
18
n/a
Counter Culture Labs
(CCL) Closet
19
20
n/a
21
22
n/a
n/a
23
24
n/a
Floorplans
Documentation Protocol
Any building's electrical system is intended to serve the needs of the users of the building in a safe manner. However, we operate within constraints such as the historical developments of the electrical system, regulations, best practices, etc. In order to reduce ambiguity and risk, we must use a consistent documentation protocol throughout the system to understand and share knowledge of historical, current, and future uses.
Naming Convention
Label the main electrical panel as "MAIN"
Label the direct sub-panels of the main panel with a letter, e.g. "A", "B".
Label each sub-panel that is connected to a first-tier sub-panel of the main panel.

"origin panel letter" + "sub-panel letter" + ... (for each sub-panel add another letter) ...

e.g. "AA" for the first sub-panel from panel "A"
e.g. "AAB" for the second sub-panel attached to panel "AA"

For each circuit, label each outlet, switch, and load with:

the appropriate sub-panel name (described above) + "breaker number"

e.g. All the outlets in one room that are on the same circuit should be labeled "CA4" meaning the circuit is on breaker 4 on panel CA, which is the first panel originating from panel C that connects to the Main panel.

the draw on the curcuit
Here is the OLD breaker panel diagram
Protocol
We are especially (not exclusively) updating our electrical system documentation on a room-by-room basis.
As you work throughout Omni Commons, you should only use the system described above to map the electrical system.
All other systems will be overridden.
You can print this page and the building floorplans above in order to document the labeling you make on the actual outlets, panels, etc.

After labeling and writing on the printed building floorplan, deliver it to any member of the Building Working Group.