Event:2014/09/20 Critical Resistance Event !
Jump to navigation
Jump to search
Critical Resistance Oakland invites you to


Dreaming Wildly, Fighting to Win
with CeCe McDonald and Ruthie Wilson Gilmore
an evening of celebration and political conversation
Tickets on sale now!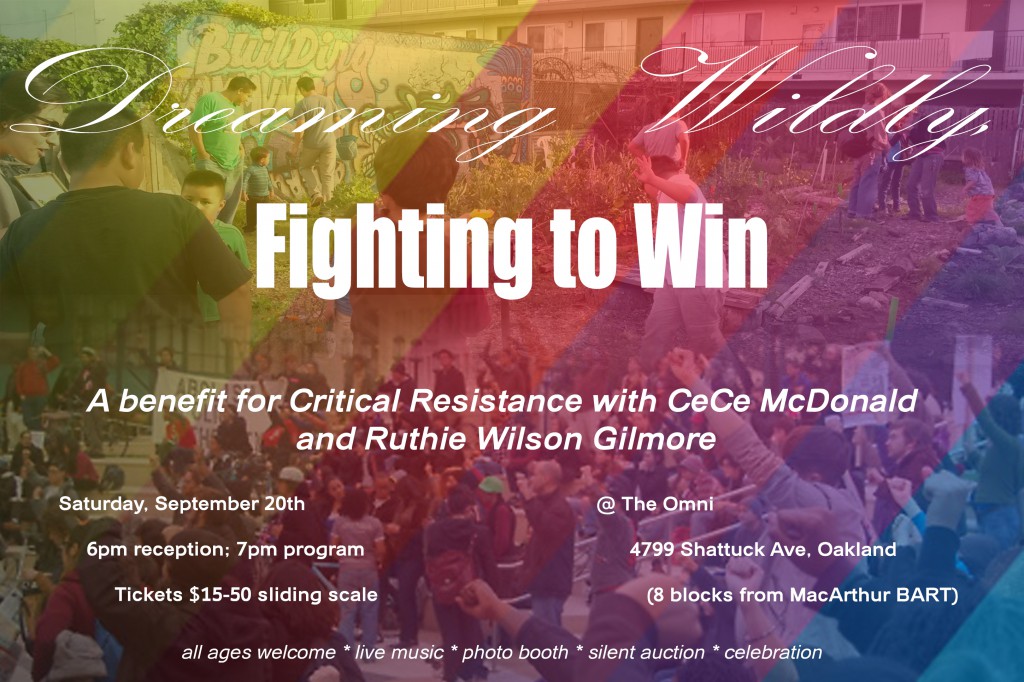 Saturday September 20
6pm reception; 7-10pm event
at The Omni Oakland Commons, 4799 Shattuck Ave, Oakland (8 blocks from MacArthur BART)

Tickets: $15 -$50 sliding scale. On sale here!


$30-50 donations support community tickets for young people and former prisoners; $50 donations come with an autographed poster.

We look forward to an evening of spirited conversation with you! What tools do we have to make abolition common sense? What critical interventions will improve our fight against the prison industrial complex? How are we building for liberation? We hope you join us on September 20 to support CR Oakland and celebrate grassroots organizing to abolish the PIC and build for self-determination!

+ + + + +
CeCe McDonald was imprisoned for defending herself against a racist, transphobic assault in July, 2010. Due to her willingness to fight, supporters and activists in Minneapolis and across the U.S. built up a solidarity campaign to demand her freedom, and were able to win her a reduced sentence. After serving a 17-month term, she was released in January 2014.
After being released CeCe quickly became a leading and outspoken fighter in the movements for LGBTQ liberation, prison abolition, and racial justice. She is currently working on a forthcoming documentary with actress Laverne Cox on her case, "Free CeCe." She was the Grand Marshall of Seattle Pride this year, she received the Bayard Rustin Civil Rights award, and has spoken on Democracy Now!, MSNBC, and various other media outlets.
Ruthie Wilson Gilmore is Director of the Center for Place, Culture, and Politics, and Professor of Geography, at the City University of New York Graduate Center. Author of Golden Gulag: Prisons, Surplus, Crisis, and Opposition in Globalizing California, she was founding-collective member of California Prison Moratorium Project, Critical Resistance, Californians United for a Responsible Budget,and many other social justice organizations.
Critical Resistance Oakland is currently fighting the construction of a new jail in San Francisco County, stoking the prisoner-led movement to abolish solitary confinement in the wake of the 2011 and 2013 California prisoner hunger strikes, and developing community based alternatives to policing.
For more information, please contact Critical Resistance at (510) 444-0484, visit us on Facebook, or email Jess-at-criticalresistance.org