Getting Here
Jump to navigation
Jump to search
Visitors and participants at Omni Commons are strongly discouraged from driving cars, given the limited parking in the surrounding Temescal area. There are many alternative options detailed below, especially public transportation.
Our location:
Omni Commons
Oakland, CA 94609
That's the corner of 48th St and Shattuck Ave, just a couple of blocks north of the intersection of Shattuck Ave and Telegraph Ave.
Car
Conveniently located near the 51st St exit of Highway 24, you can arrive at Omni Commons by reaching 24 via the following freeways and highways: 580, 80, 880, 13. See map.
Parking
Pro-tip: Do not leave any valuable items in your car, especially if they are visible through the windows. Covering items with jackets or blankets might suggest they are valuable and therefore increase the risk of theft.
Street
Streets surrounding Omni Commons have some space for free street parking (usually quite full), but be aware of signs as parking tickets are inevitable without following the correct parking instructions (street sweeping, time limits, etc).
Lots
MacArthur BART station parking structure

Currently undergoing construction, might not be available until construction is finished.
Accessible from both MacArthur Blvd and 40th St
4:00am - 3:00pm = $3 fee
3:00pm - 4:00am = Free (rest of the time)
Lot fills by ~7:00am
Better chance to find parking here after working hours and on the weekends.
Pedestrian
Walk, roll, glide, float, skip, etc. It's just a good idea to be a pedestrian. It's likely the sun will be out too, with an average 260 sunny days per year in this part of the planet. That being said, ability, time, and inconvenience can make this a less than ideal choice.
Bicycle
There are many bicycle routes in Oakland, see this map. In fact, one might say the whole East Bay is one big bike ride.
Parking
Pro-tip: To deter theft, use a sturdy U-lock or very, very thick chain with a strong padlock. If possible, remove commonly stolen bicycle components and take them with you. Otherwise, use cables or chains to lock or otherwise affix the following to the frame of your bike, or equivalent sturdy structure (in order of priority): front wheel, rear wheel, seat, helmet, bags/panniers, lights.
Outdoor
Outside of Omni Commons, there are various poles fit for bicycle parking. There are parking racks in the streets and on the sidewalks nearby Omni Commons, but none directly outside of the building at this time. A request has been submitted to the city and a plan for installing a suite of bicycle racks is in place.
Pro-tip: Do not leave your bike locked up outside overnight for any reason.
Indoor
While collective members, volunteers, and guests some times bring their bicycles inside the Omni Commons, there is currently no dedicated indoor parking for bicycles. A proposal for installing some indoor bicycle parking racks is in review.
Bus
AC Transit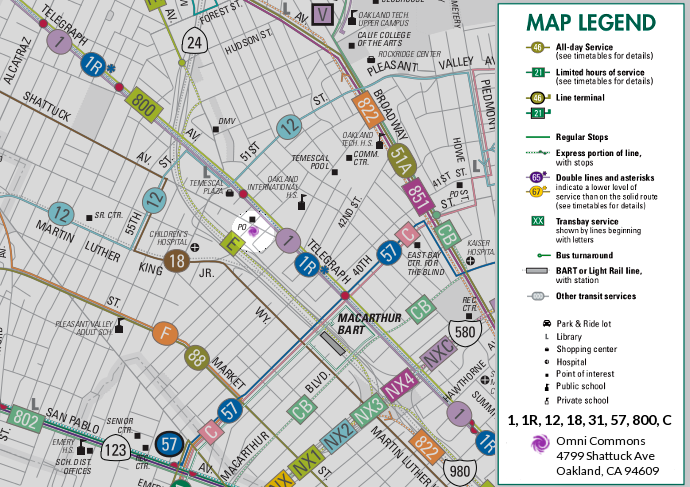 The Alameda County Transit (AC Transit) bus service maintains the following bus Lines with stops near 4799 Shattuck or MacArthur BART Station:
1, 1R, 12, 18, 31, 57, 800, C
Emery-Go-Round
From Emeryville, including the Emeryville Amtrak station (see below), there is a free bus called the Emery-Go-Round that stops at MacArthur BART station (which is a ~12 minute walk to Omni Commons, see below).
Train
BART
The closest Bay Area Rapid Transit (BART) stop is MacArthur Station located at:
555 40th St
Oakland, CA 94609
Omni Commons is a ~12 minute walk from MacArthur Station. See map.
Amtrak
The closest Amtrak stop is the Emeryville Station (EMY) located at:
5885 Horton Street
Emeryville, CA 94608
The Emery-Go-Round (see above) is a free bus that stops at both the Emeryville Amtrak station and MacArthur BART station (which is a ~12 minute walk to Omni Commons, see above).