Internal Communications
Jump to navigation
Jump to search
Aside from regular, facilitated in-person meetings, Omni uses a variety of online tools for our internal communications and documentation. What follows are the various forms of communication within the community, how to participate, and the general purpose of each form.
If you need support or have questions, please send an email to comms AT omnicommons DOT org.
Delegates Meetings
Delegates Meetings are primarily spaces for report-backs of work being done, and discussion of issues that impact all participants of the Omni. They are open meetings, and anyone is welcome to attend! Each member collective assigns a delegate to represent their collective in the Delegates Meetings, in which decisions are made through a consensus process.
Working Groups
Working Groups are always oscillating depending on the momentum and leadership of any given group. They all operate according to the nature of work and participants involved. For instance, the Communications Working Group operates by and large remotely (though it used to meet in-person), and handles public relations, social media, and other forms of digital communication. The Building Working Group occasionally meets, but mostly communicates tasks via the mailing list and coordinates work parties when necessary. The Finance Working Group and Fundraising Working Groups are often changing days and times of meetings given the high turnover rates of those involved and the pressing nature of action items that often require spontaneous meetings. The Commons Working Group, which handles booking and events, strives to keep a consistent schedule and practices for the sake of public relations and consistency that is crucial to event rental income. See the calendar for a list of upcoming meetings, join the relevant [mailing list https://omnicommons.org/lists], or start / revive a committee!
Meeting Notes
Most working group and delegates meetings use Riseup etherpads for collaborative & simultaneous real-time editing as well as chat with remote participants. At Omni, common practice is to take notes in mediawiki's markup format, so that notes can be easily copy-pasted to the wiki archive after the meeting. See also Meeting Note Templates for a directory of copy-pastable meeting note templates.
Mailing Lists
There are many mailing lists - think of them as a digital directory of interests and activities (past and present) in the Omni community. You can view the full list of mailing lists (and subscribe to them) at: omnicommons.org/lists.
While the 'consensus' list is required for delegates, all others are optional. The most active lists include:
Announce: Moderated list for sending important announcements to our 800+ subscribers.
Discuss: General discussion list for anything omni-related (high traffic)
Booking: Where new space booking requests are sent. We ask that only folks who've attended at least one Commons Working Group meeting subscribe to this list.
Building: Discussions about ongoing building construction and maintenance projects.
Commons: Where we discuss issues and tasks related to events happening at the Omni - this is typically subscribed to in tandem with the Booking list.
Finance: Dealing with our moneys.
Fundraising / Buy the Building / Until the Revolution: Making moneys.
Mediation: Email this list to discuss conflict mediation, request support, etc. Join if you're willing to be a mediator for future conflicts.
Productions: In-house A/V tech team for helping with events
Wiki
Our wiki is our primary mode of documenting meeting notes as well as information about all aspects of the Omni. A wiki is a collaborative knowledge platform, written in article form, that stores all previous revisions to pages. Updating, cleaning up, organizing, and beautifying the wiki are much-needed tasks - anyone and everyone is welcomed and encouraged to contribute!
File Storage
We use both Google Drive and Owncloud to store internal files such as state and corporate filings and applications. Please contact accounts AT omnicommons DOT org if you need access.
Analog Notes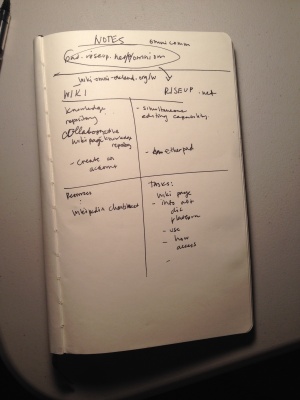 Analog notes are an excellent option for recording and transmitting information.
This platform is unparalleled in terms of security and user friendliness.
Given physical proximity, analog notes support collaborative creation and simultaneous editing.
Information is created and stored in real time; there is no need to "save". However, as analog notes rely on material artifacts, it is possible for data to "be lost".
Analog notes offer limited sharing capabilities; consider combining your analog notes with one or more of the communication tools listed above in order to maintain collective accessibility.