Optik Allusions
Jump to navigation
Jump to search
Submit by May 15th! Anything under 20 minutes!
FTP: Films 2 The People
Short Film Festival
Submit to: optikallusions@lists.riseup.net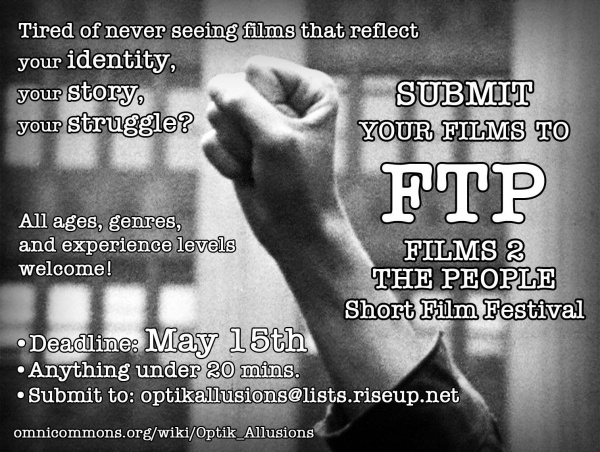 Optik Allusions is a radical film & video collective dedicated to social change, based in Oakland, California.
We make media that challenge the dominant culture. We tell stories that otherwise might remain untold. We express our alternative views of the world, have fun doing it, and welcome everyone to do so, regardless of prior experience. We learn by doing. We share resources, skills and knowledge to support eachother's creative endeavours. We make films in a spirit of collaboration, inclusivity and solidarity, supply a lending library of film equipment for creative projects, organize free, at cost or donation-based workshops, and host film screenings. We also steward a room dedicated to media post-production at the Omni Commons. If you like to make videos and/or want to become a member, come to our tuesday meetings at 7 pm! We're open and happy to welcome new members.
To contact us, write to:
optikallusions@lists.riseup.net
To know more about us, join our announce mailing list:
optikallusions.announce@lists.riseup.net
To become involved, come to our meetings on Tuesdays, 7pm at the Omni Commons!
Sometimes, the meetings turn into creative workshops!
To follow what has been going on, read our meeting notes.
Our YouTube Channel is still a WIP, but here are some of our video productions to this day:
Oakland stands in solidarity with Ferguson
The Omni Commons in 30 seconds
No Beauty with an Absence of Color
We are also working on a documentary about gentrification in West Oakland, as well as collaborating with the Oscar Grant Committee to document the work they do. We are organizing a film festival at the end of May 2015. See here for info on submissions!