A/V equipment and setup
Jump to navigation
Jump to search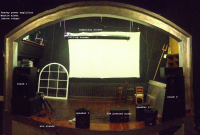 The Omni ballroom and theatre is home to enough A/V equipment for just about any event or performance.
Like what you see? Want to request an event booking? Please visit http://www.omnicommons.org/occupy/ - you can also ask for more information through that form. If you have other questions or would like to donate A/V equipment, please contact booking at omnicommons dot org.
Full A/V equipment list, as of Jan 28, 2015.
Mics, etc
1 Shure SM57 Dynamic microphone (for vocals as well as musical instrument pickup)
1 Shure SM58 microphone (for vocals)
1 MXL 990 large-capsule condenser microphone (for vocals and acoustic instruments)
5 adjustable mic stands
Amplifiers and mixers
1 TOA powered mixer (model MCX 106), with tape cassette deck!
1 Peavey power amplifier (model PV1.3K), installed above the stage
1 Mackie 16-channel/4-bus compact mixer (model 1642 VLZ4)
1 Crate mini-amp (model MRB-10)
Speakers
2 medium speakers (wired to the TOA mixer), for medium sound e.g., DJ music, dance performance
2 stacks, for heavy sound, e.g., concert
Audio and power cables
everything you need, guaranteed
8-socket APC surge protector
Main projector
Silver Panasonic Digital Projector (model PT-F200), perfect working condition, no case, dedicated detachable power and VGA cable
More projectors
Giant Infocus Digital Projector, 800x600 resolution, includes cables
White Sanyo PROTraX "Multiverse" Digital Projector, mild green tint in corner, no cables
Lightweight Wonderwall Digital Projector, in case, with attached power cable
Tiny LG HW350T 300 lumen Digital Projector
Dell 300 lumen LED Digital Projector
Toshiba Collapsible Document Projector, black case, dedicated cables
Screens
white sheets on stage, appx. 20x16'
white wall in ballroom, appx. 20x16'
roll-up screen on stage, appx. 8x8'
Instruments
1 upright piano, lovingly used on a regular basis, needs tuning (come help tune it!)
more in the basement..?