A/V equipment and setup
Jump to navigation
Jump to search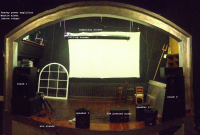 The Omni ballroom and theatre is home to enough A/V equipment for just about any event or performance.
Like what you see? Want to request an event booking? Please visit http://www.omnicommons.org/occupy/ - you can also ask for more information through that form. If you have other questions or would like to donate A/V equipment, please contact booking at omnicommons dot org.
Full A/V equipment list, as of Sept. 2019.
Mics/Stands
2 Shure SM58 dynamic microphones
1 Sennheiser EW365 wireless dynamic microphone
2 Audio-technica System10Pro wireless dynamic microphones
1 Sennheiser e935 dynamic microphone
3 Sennheiser e835 dynamic microphones
Wharfedale Pro DM2.0S dynamic microhone
1 AKG D3700 dynamic microphone
1 EV N/D 2578 dynamic microphone
3 Radio Shack 33-3001 dynamic microphones
10 adjustable mic stands
2 table mic stands (short)
1 music stand
Amplifiers and mixers
2 Mackie (Thump15) 1000watt powered full range monitors/speakers
2 Mackie (Thump 18S) 1200watt powered subs/bass speakers
1 TOA 6 channel powered mixer 360watt (#MCX 106), with tape cassette deck!
1 Mackie 16-channel/4-bus compact mixer (#1642 VLZ4)
Speakers
2 Fender medium speakers 100w (wired to the TOA mixer), for medium sound e.g., DJ music, dance performance
2 Meyer's Sound stacks (MSL-3 & B-2) 7200 watt for heavy sound, e.g., concert
1 TOA 120 watt speaker (#30SD)
Amp/Speaker Combo
1 Crate amp/speaker combo 10 watt (#MRB-10)
1 LisystemSpider 212) 100 watt amp/speaker combo
1 Peavey (Express 112) 200 watt amp/speaker combo
1 JBL (EON 206P) 45 watt portable pa system
1 Pyle (PWMA1050BT) bluetooth battery powered amp/speaker combo
Audio and power cables
everything you should need
8-socket APC surge protectors
1 snake
EQs
1 Ultragraph Pro 31 band graphic equalizer (#FBQ3102)
Projectors
1 Optima(DAEHNZTZ) 5000lumen 3D dlp projector
Silver Panasonic Digital Projector (model PT-F200), perfect working condition, no case, dedicated detachable power and VGA cable
Dell (3300MP) 4:3 aspect ratio w/vga input (DLP)
Optima HD180 1080p w/hdmi, composite & vga input
Screens
Dalite 16ft motorized screen over Ballroom stage
white wall in ballroom, appx. 20x16'
roll-up screen appx 10'x8'
roll-up screen appx. 8x8'
Instruments
1 upright piano
1 baby grand piano
1 guitar (six string)
1 organ w/leslie speaker (needs work)
more in the basement..?